To advance gender equity for women and girls through research, education, and advocacy.

 We welcome you to the Northeast Tarrant County Branch!
---

Start your free, online salary negotiation workshop by clicking on the logo below.
---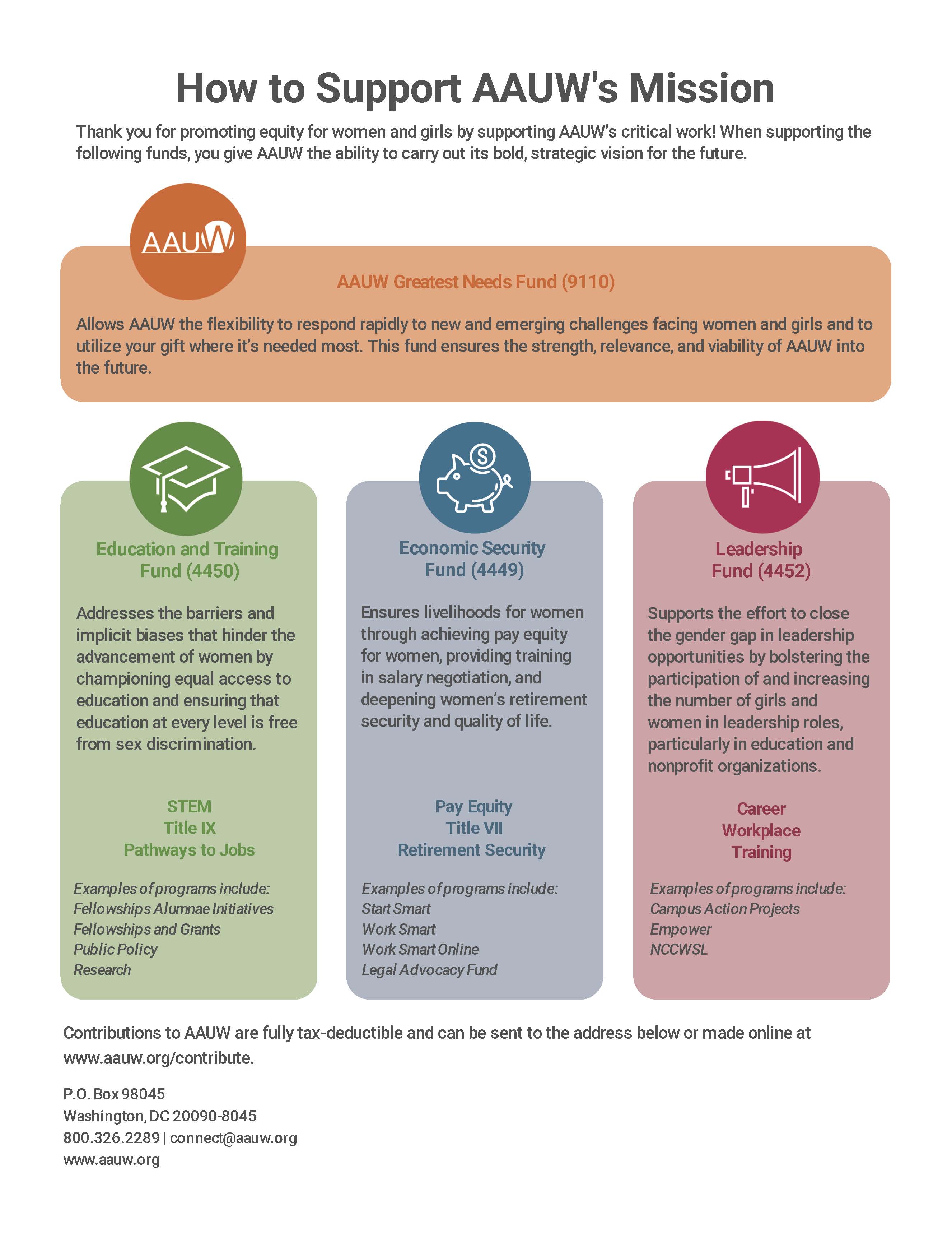 If you have a personal PayPal account, donations can be made using the PayPal Giving Fund. Donations via the PayPal Giving Fund will go to our Projects Fund to support our fundraising goals. Please click on the AAUW Funds link in the right-hand column to learn more about our branch's scholarship opportunities for women and girls. Note: Donating via the PayPal Giving Fund will require you to have a personal PayPal account. You will need to enter your personal PayPal ID and password into the PayPal page which comes up after setting an amount and selecting 'Donate' on the Giving Fund page.
Important notice to NETC Branch members:  Payments for operating expenses like membership dues, other member's project expenses like pansies, or for any other 'specific' reasons cannot be submitted using this 'Donate Now' button (above).
…………………………………………………
Click on calendar to print.
…………………….……………………………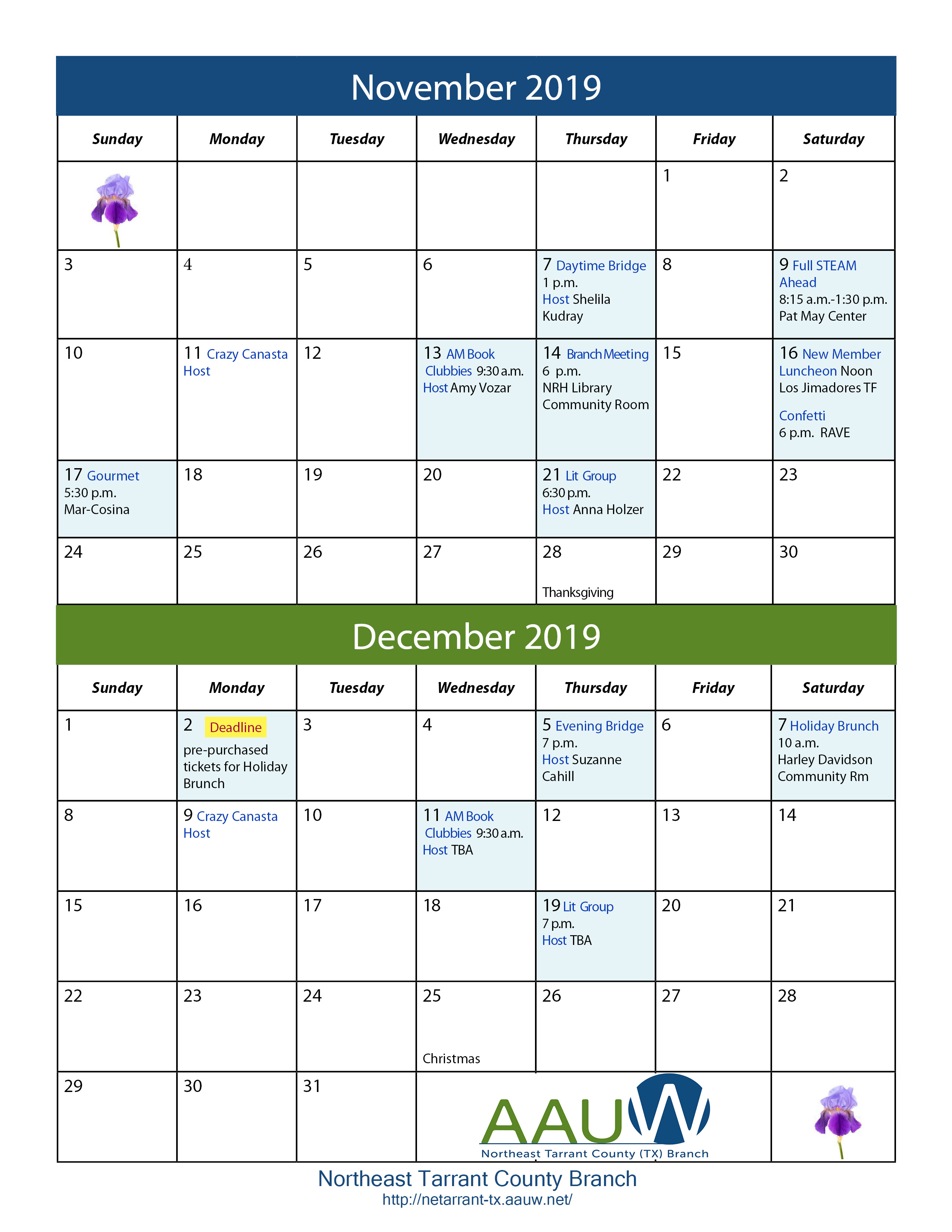 ---
NOVEMBER EVENING BRANCH MEETING
From Pat Lucas and Marilyn Matthews
Program Vice Presidents
The next regular meeting of the AAUW Northeast Branch will be held
Thursday evening, November 14th at 6 p.m.
North Richland Hills Library Community Room,
9015 Grand Avenue
North Richland Hills, TX 
Come hear our member Paula Jernigan explore the topic of expecting respect in the work place.
Please note that this is a night meeting. 
Hospitality Hostesses for the November meeting
Jean Dodds, Mary Ann Goetz, Cheryl Dale and Alice Logan 
Thank you, ladies, for providing refreshments for our evening meeting at the North Richland Hills Library.
---
PANSY SALE BIGGEST EVER!                                        GET READY FOR THE HOLIDAY BRUNCH

from Ellen Jones and Debbie Gerwick
Vice-Presidents, AAUW Funds
Thanks again to our members for the wonderful support of the Pansy Sale. We broke our goal by 47 flats!!
Now it is time to move on to our Holiday brunch which will be held 
Saturday, Dec. 7
Harley Davidson Community Room
This year we are celebrating our 50th anniversary.  
Tickets to the event are $25 and checks can be made payable to AAUW and sent to Ellen Jones at 411 Westcilff Dr  Euless 76040 or Debbie Gerwick at 901 Monterrey Bedford 76022. Deadline is Dec. 2.
Be sure that you and your guest have your pre-purchased tickets for the event. Space is limited.
Brunch will be served at 10 am after some opening remarks.
We are trying a new caterer, Bacon's, with a more varied brunch menu.  If you have a dietary restriction, please let Ellen or Debbie know as soon as possible.
We will also be having our annual silent auction prior to the brunch.
Please consider a small donation of an item for our silent auction which can be placed for display beginning at 9:30 am.  Since the space is limited, we ask that you consider only one donation.
In addition to the silent auction, we will be selling raffle tickets for some great gift baskets.…mimicking our leisure groups themes, reading, gourmet, and fun outings. Tickets will be sold on the day of the event and you will be able to select the gift basket you would like to try to win!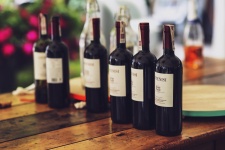 Mimosas and chocolate covered pecans will also be sold for your enjoyment.
---

Saturday, November 9, 2019
8:15 a.m. – 1:30 p.m.
Pat May Center
Photos by Pat Cheong
---
INTEREST GROUPS
See NEW Interest Group this month! 
The branch offers members a variety of ways to get to know one another through small groups in social settings.  Interest groups are coordinated by member volunteers.  If you have an idea for an interest group or would like to coordinate one, please contact the facilitator or the co-presidents.   Activities are listed in chronological order. 
Confetti!
 Movie "Last Christmas" –  November 16
from Rachael Boucher
We are planning to see the movie "Last Christmas".    Official trailer:  https://youtu.be/z9CEIcmWmtA
Date:   Saturday November 16th   
Time:   Target time closest to and before 6 p.m. 
Where: Rave Theater, Northeast Mall.
We will firm up the time shortly after the movie release November 8th. 
Event Host:  Questions?  Rachael Boucher   817-658-1360

Confetti is a new group especially for those who enjoy a fun variety of activities on no particular schedule!  It might particularly appeal to younger members and others with occasional openings in a busy schedule.  All members are welcome!
---
November 16th Luncheon to Honor New Members
By Cheri Butler and Paula Jernigan, Vice Presidents for Membership
The Membership Committee is hosting a New Member Orientation Luncheon
Saturday, November 16th at 12:00 noon.
This Dutch-treat luncheon will be held at
Los Jimadores Tex Mex Tequila Factory at
3314 Harwood Road in Bedford.
Our nine new member honorees are:  
Brittany Ajoku, Karin Bunton, Elaine Formby,
Susan Jones, Sandra Labadia, Shelly Lemman,
Marjorie Lewis, Kimberlee Markle and Cathy Patrick.
---
The NETC Branch 50th Birthday Celebration continues with Birthday Presents!
from Donna Baumgartner, Branch Historian
A birthday party is so much fun! And even more fun when you get presents!
A donation to the Georgia Kidwell Remembrance Fund is the perfect birthday gift for our 50th Branch Birthday Celebration Year!  
A fundraiser for scholarships our branch used in the '70s was created by Branch President Betty Fuller.  She encouraged branch members to make a donation in an amount equal to the number they would get if they added the numbers of their phone number and multiplied the total by 10 cents.  
 
To celebrate our 50th Anniversary and carry on this tradition, I suggest you add the numbers of your phone number and multiply the total by 50 cents!  
However, math is not required, and any amount donated to the Georgia
Kidwell Remembrance Fund will be greatly appreciated! 
Thank you! 
---
YEARBOOK NOW AVAILABLE!
The NETC Branch Yearbook 2019-20 has been published.
Thank you, Betty Chang, for donating the printing. 
---
Branch Legacy Circle Members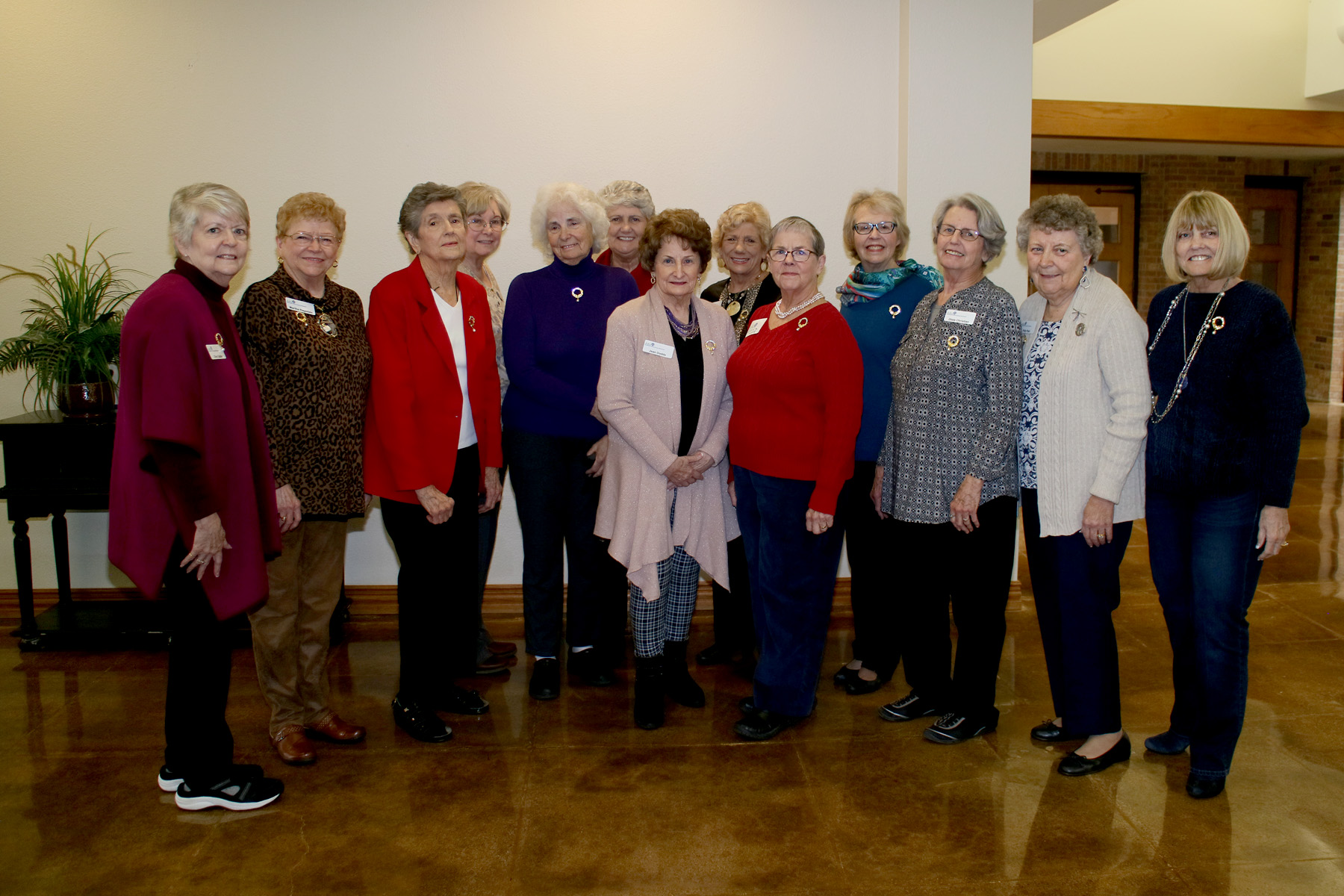 Cheri Butler, Martha Ragsdale, Anna Holzer, Pat Lucas, Meg Sprenkle, Ginny Phoenix, Jean Dodds, Mary Ann Goetz, Gloria Long, Pat Cheong, Dixie Christian, Polly Post and Lynn Doyle. Not pictured: Lynn Millner and Martha Matthews
---
AAUW – Texas State Board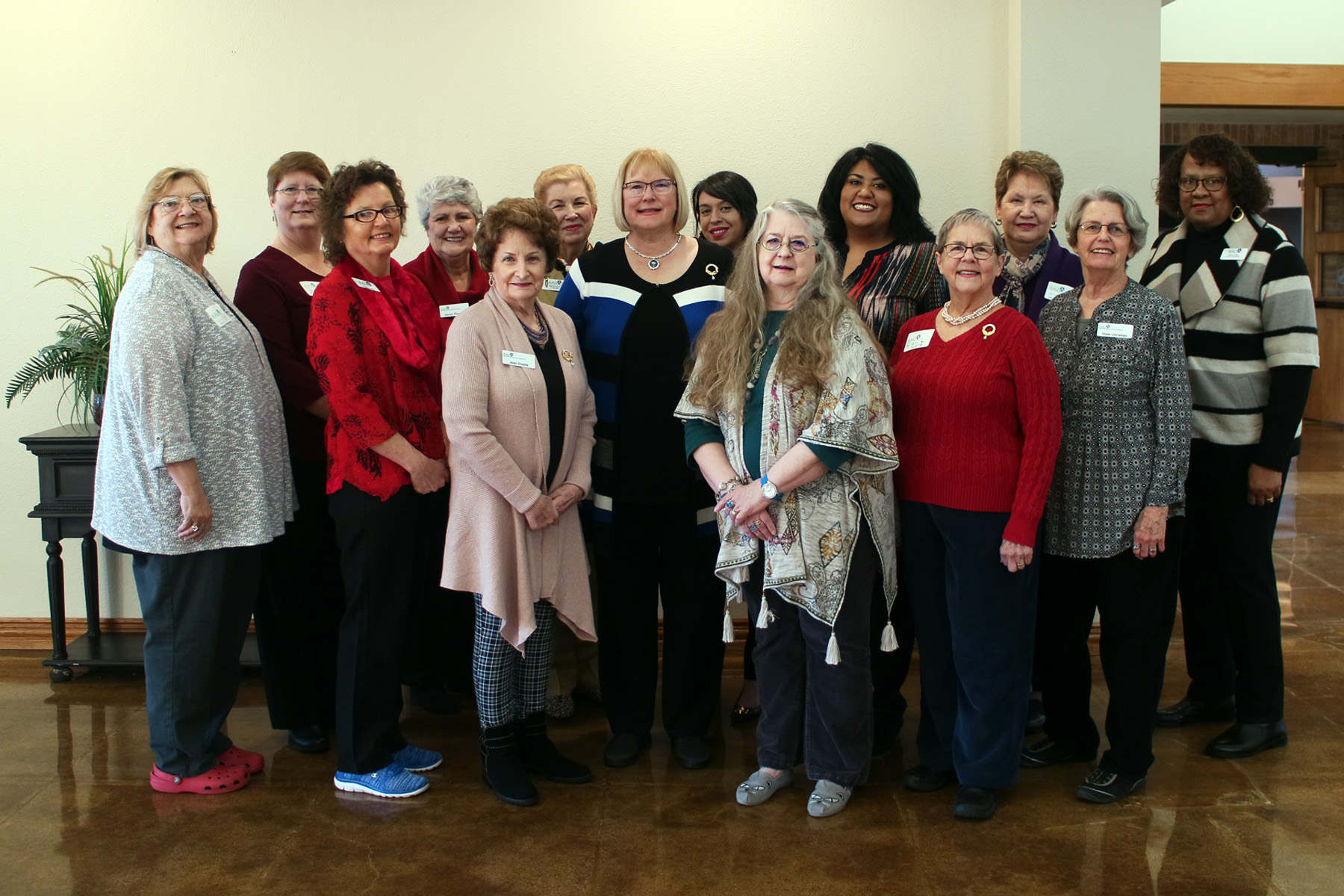 ---
Branch members and community leaders honored the legacy of Georgia Kidwell, branch founder and long-time community advocate, at a requiem mass at St. Vincent's Cathedral in Bedford.  Memorials to AAUW may be mailed to Ilze Kalnajs, branch treasurer.  For obituary, click on link or copy and paste it into your browser.
http://Click the link for the full obituary. https://www.legacy.com/obituaries/dfw/obituary.aspx?n=georgia-brenner-tipton-kidwell&pid=190775355&fhid=7166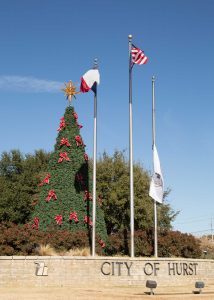 https://1drv.ms/v/s!AviZIl5f0np1gflkQ50vZAUSUT6osw
Click on link above to see the flag ceremony in honor of our branch founder, Georgia Kidwell.
---
WE WELCOME GUESTS!!! 

Come join us!!!
AAUW Northeast Tarrant County Branch
http://netarrant-tx.aauw.net/
AAUW Texas http://aauw-tx.aauw.net
AAUW Interbranch http://northtexas-ibc.aauw.net/
AAUW Website http://www.aauw.org/
AAUW Blog http://blog-aauw.org is a lively place to read about and discuss issues of the day.
AAUW on Twitter Log on or sign up for a Twitter account and start following AAUW members from around the nation to hear the latest AAUW and public policy news.
AAUW on Facebook Join AAUW on Facebook. "Like" the AAUW national, Texas, or NETC page!